Team
Management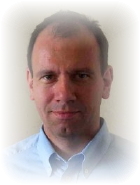 Nicola Fantini has been software engineer, project manager and entrepreneur in the field of software development for more than 20 years. He holds a Master's degree in computer science and business administration (from the University of Zurich, Switzerland). He worked for five years in the R&D department of 3M, managing and developing solutions for research laboratories and toxicology. Starting from 1995, he has set up his own software engineering companies with development centers in Bulgaria and the Ukraine as well as his consulting practice in Switzerland. He has been involved in and leading projects across industries from logistics/transportation over software to finance, providing operational, commercial, financial as well as technical solutions. Following a strong growth, the Bulgarian development center with more than 150 engineers has been sold to VMware, the leading company in virtualization. He has supported and is engaged in a number of technology companies, providing engineering and consulting resources as well as financing solutions.
Nicola Fantini is the CEO of CloudBroker and mainly responsible for business, direct marketing and sales aspects.
Development Team
Software development, service operations and user support are performed by our skilled development team, which is provided in collaboration with ScaleTools.
The CloudBroker Development Team currently consists of junior and senior members responsible for software development, system engineering as well as documentation and quality assurance.
Former CloudBroker Members
Associate and managing partner, CEO (12.11.2008-31.12.2011), CTO (01.01.2012-03.05.2016)
Associate and managing partner, CMO (12.11.2008 – 04.10.2012)
Associate (12.11.2008 – 31.03.2010)